Typhoon Lagoon- Orlando
We went to
Typhoon Lagoon
and I had a wonderful time!The wave pool had a booming sound, parang alarm but I did not mind it. I enjoyed the pool very much and also the Ketchakidee creek where they had all sorts of slides a kid like me could imagine. In one of their slides, I was forced to remove my swimwear (but I still had my swimmers on huh) kasi my swimming outfit won't let me slide. Eh di hinubad ko at super saya.
On this pic, dad and I shared some cashews. Pero balik din ako agad sa tubig. I had to change clothes kasi yung floater ko, butas. Thank God, Ninang Sarah had an extra swimgear. Well, nothing can stop me from having fun!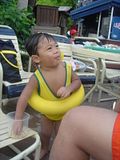 Thanks Mom and Dad for a wonderful time! Bliss!